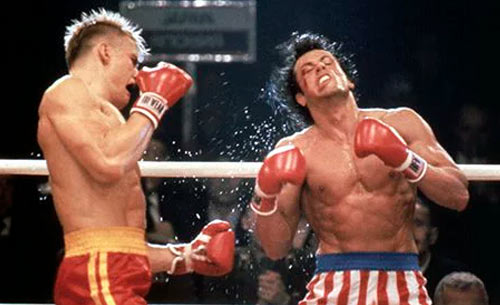 What is it that makes boxing films so appealing?  Sports films, in general, tend to do well at the box office, but boxing films tend to be real blockbusters.  The answer is rather simple.  We like boxing films because we like to see the struggle and the ultimate victory.
No boxing film is ever the story of the champion who is already doing well.  They are never about a champion who simply walks into the ring and knocks out the opponent in the first round.  They are never about the fight that is so short it does not even give you a chance to finish your popcorn.
Boxing films are about the underdog.  Boxing films are about the demanding training the boxer goes through – and the dedicated older trainer imparting words of wisdom to focus the boxer's attention and motivate his heart as well as getting him physically ready.
Boxing films are about the transformation of the underdog – the expected loser – to victorious champion coming out on top.  Back to us, each of us has struggles; each of us has concerns; each of us can on occasion see ourselves as the underdog who wants to be a champion.  As a result, we go to boxing movies and imagine ourselves training hard, fighting hard, and winning.
At the end of the day, the reason our boxing film heroes win is that they get good leadership, they train hard, they fight hard, and they do not give up no matter how battered they feel.  These are principles we must learn from "Rocky" and other boxing film boxers like him.  To excel and win it takes constant dedication and a "will not" – cannot – quit attitude.
This is true in all aspects of life but most especially our spiritual lives.  True spirituality is by its very nature embodied faith – living what you believe.  If you are a Christian, living what you believe is hard work.  It is so much easier to get an inspirational bumper-sticker or mug – maybe even an adapted corporate logo t-shirt which conveys a vague christianesque message.  The question then is – Will these strengthen my soul against attack?  Will I be ready to stand and fight?
Paul wrote to the Corinthians that to prepare for the struggle with Satan, "I discipline my body and keep it under control" (1 Cor 9:27).  Paul wrote to Timothy to "Fight the good fight" (1st Tim 6:12).  How does one fight the good fight?  Paul said to Timothy, train yourself for godliness; … godliness is of value in every way, as it holds promise for the present life and also for the life to come" (1 Tim 4:7–8).  Finally, Paul is clear that the Christian life, lived faithfully, is a battle that will entail not giving up no matter how battered a person might feel when he said, "Share in the suffering as a good soldier of Christ Jesus. (1 Tim 5:3).
Paul did not say all of these things from an "Ivory Tower."  Paul was the older and wiser experienced trainer who had already faced the struggles and persevered.  Paul explains how it is that he is qualified to speak on the struggles of faithful living: "Five times I received at the hands of the Jews the forty lashes less one.  Three times I was beaten with rods. Once I was stoned. Three times I was shipwrecked; a night and a day I was adrift at sea; on frequent journeys, in danger from rivers, danger from robbers, danger from my own people, danger from Gentiles, danger in the city, danger in the wilderness, danger at sea, danger from false brothers; in toil and hardship, through many a sleepless night, in hunger and thirst, often without food, in cold and exposure" (2 Cor 11:24–28).
If a film was made of his life the seats would be full of people cheering for Paul, the underdog.  People who want to see in him what their own lives could be – hard but victorious.  The thing is we can each live the life.  Jesus has called us to follow Him.  But that life will not be a soft life of bumper-stickers, coffee cups, and trivial t-shirts.
Will you do more than sit in the seats and cheer?  Will you pick up your cross and follow Jesus into the fight daily?
Pax et Bonum,
Steve+